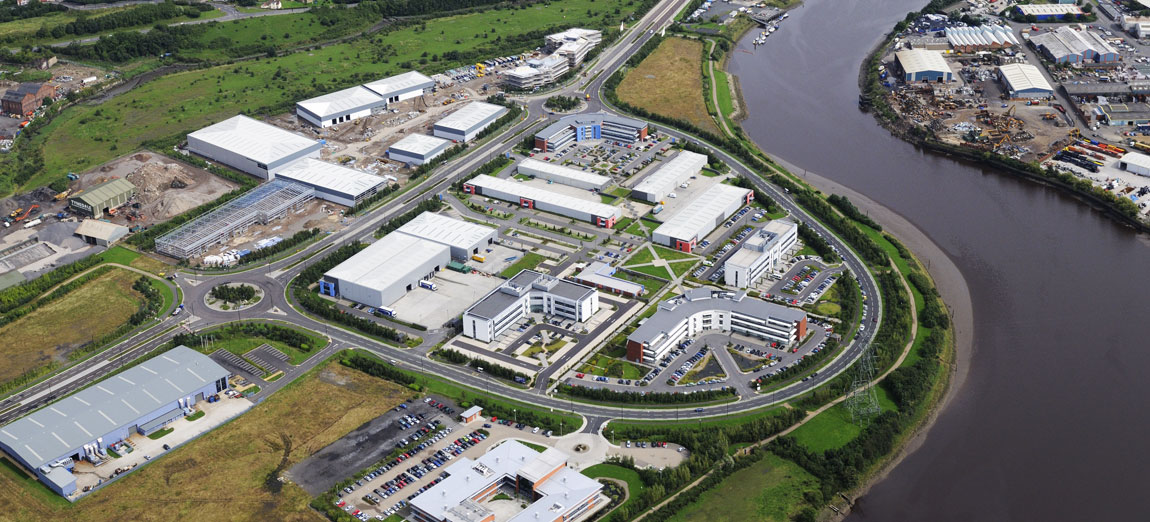 The Waterfront consists of 20 acres of reclaimed land on the Northern banks of the River Tyne formerly the Stella North Power station. In national completion the opportunity was won and a development agreement negotiated with the then Regional development Agency, One North East, to draw down land on a build out license arrangement, with land payment upon completion. In five separate phases, 31,500 sqm of award wining office and high-tech industrial were developed, with 3,000 sqm of offices built out initially with securement of a £1m ERDF grant and in-build leases to DEFRA and a Café operator. This allowed roll on of a further 7,000 sqm of high-tech business units. Further phases were let and pre-let to the Strategic Health Authority, McFarlane Packaging, pre-sale to Places for People Children's Nursery, and letting in-build to Porcelanosa.
With careful attention to detail of design, use of quality materials, imaginative high quality landscape design, contemporary art sculpture, sustainable development issues, and value engineering to ensure efficient and timely build out, the development achieved four early BREEAM excellent awards for offices in advance of market standard acceptance. This set the development apart from competing schemes and secured a high number of government agency occupiers.
The Waterfront's outstanding qualities have been recognised with several awards, including:
Best Practice trophy at the 2003 BCI Awards
A High Commendation in the Civil Engineering category
Institute of Civil Engineers' Robert Stephenson Award for Innovation
The Edmund Hambly Medal for Creative and Sustainable Design
4 Excellent rated BREEAM Awards for environmental efficiency
Winner of the BCO North of England Award for Commercial Workspace above 2,000 sqm
Contractor - Tolent Construction.